【Patent Name】 Flexible Multi-chamber Drug Container and Its Manufacturing Method and Use 【Applicant】 B. Brown Medical Corporation 【Inventor】 W·W.·Barney; N·Gary Bian; D·G.·Harvey M.R. McLonis; C.D. Pila; S.L.Pol; G.Saka; S.J.Sandberg; T.R.Sakaguchi[The Principal Applicant's Address 】 United States Pennsylvania [application number] 200510079089.6
【 Application Date 】 1997.04.11
【 Approval Notice No. 1720875
【 Validation announcement date 】 2006.01.18
[Main classification number] A61B19/00(2006.01)I
[Categorical Information] A61B19/00(2006.01)I A61J1/00(2006.01)I A61L2/08(2006.01)I B65D25/08(2006.01)I
[Priority] 1996.5.13 US 08/647,583
[original division number] 200310124590.0
Sovereign Items 1. A transport carrier suitable for disinfection by electron beam irradiation. The transport carrier contains: a generally rectangular container tray that encloses a space and includes an outwardly curved upper periphery , forming a horizontally oriented perimeter; a rail support for carrying a plurality of containers having a shape that can be received in a space within the tray; and affixing to a horizontally oriented perimeter, thereby covering the trays to form for transmission and The empty container is a sealable cover membrane for disinfecting a transportable sterile container isolator.
[Instructions CD-ROM] D0603-1
[Abstract] The present invention provides a flexible container (10) for storing and mixing together diluents and medicaments. The container contains a plurality of chambers (18, 22) separated by a peelable seal (24, 26) between which the diluent and medicament are stored. The container is composed of a thermoplastic material with high oxygen and moisture barrier properties, allowing the container to be stored for long periods of time without degradation of its contents. The container seal is broken by handling, so that the contents are mixed and can be administered to the patient through a standard intravenous device. The seal provides a non-linear resistance to hydraulic pressure so that the seal can be completely stripped along its length. The container also contains small tabs (28) and conformal recesses (27) which ensure that the bag is folded in half.
【 Agency 】 China Council for the Promotion of International Trade Patent and Trademark Office 【 Agent 】 Ning Jiacheng

Porcelain Dinnerware Set, high quality, with different pattern, simple, modern, flower, vintage, cute .
Welcome OEM and accept your own band and design.
Porcelain dinnerware set: Dishwasher and microwave safe, durable and easy to care for, With CIQ, SGS, and LFGB certificate
Porcelain dinnerware set : can be round, coupe, square ,triangle ,irregular shape , 4 pieces, 16 pieces, 20 pieces -, Service for 4 people, 6 people -
We can make different combination of Dinnerware Sets as your requirement.Such as pizza Plate,18 pieces Dinner Set.
Dinnerware Sets can be in different packing: bulk packing, gift color box, Mail Box, PDQ, Pallet packing, IKEA packing.
Payment terms: T/T or L/C
Delivery date: 45 days
Accept OEM and your own brand and design
Samples are available.
MOQ: 1000 pieces for bulk item, gift sets is 600 sets
Mixed order is accepted.
Any more question, please contact our customer service.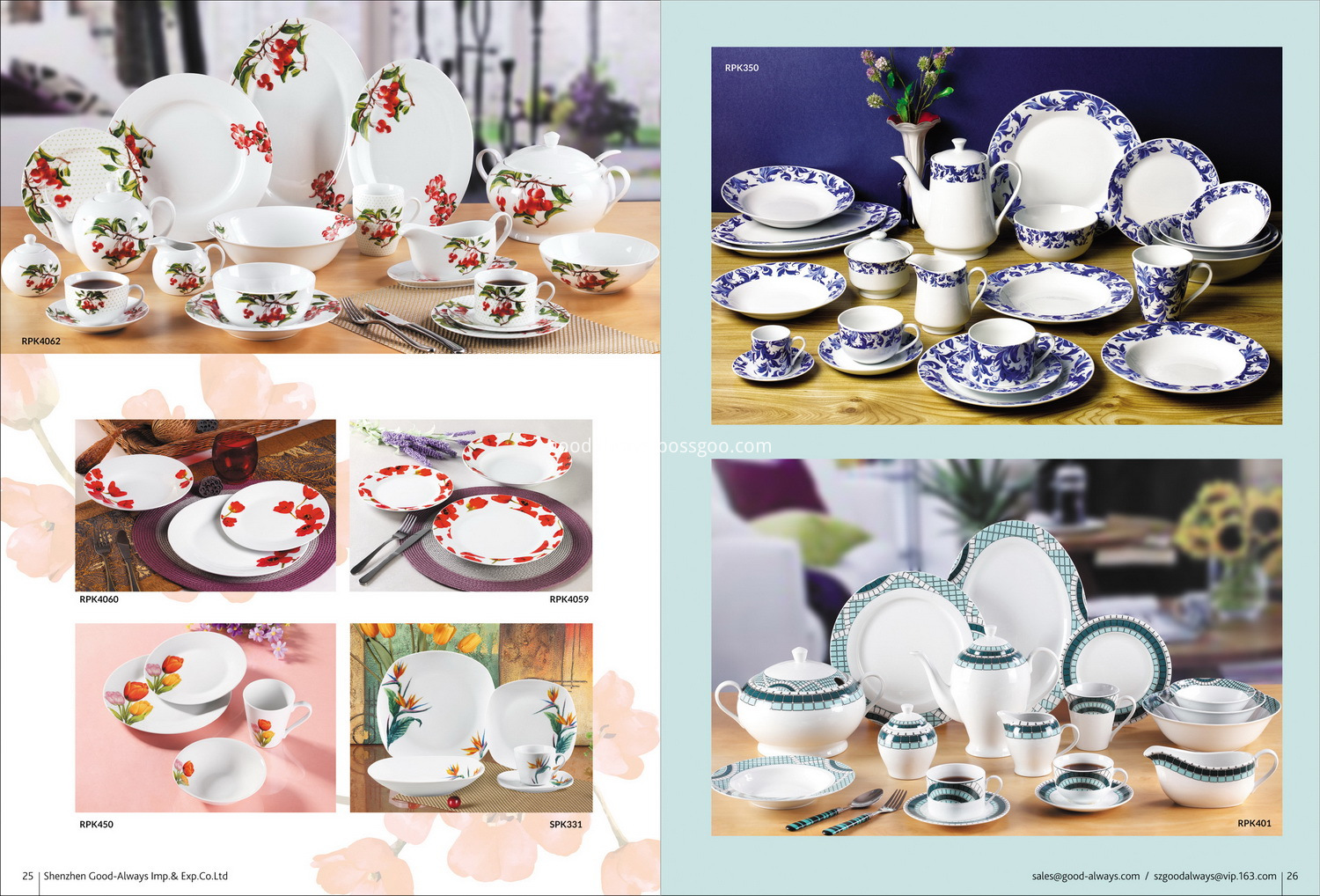 Dinnerware Set,Dinner Set,Porcelain Dinnerware Sets
Shenzhen Good-Always Imp.& Exp.Co.Ltd , http://www.good-always.com